PRESIDENT - George Fickett
VICE-PRESIDENT - Jerry Netherland

SECRETARY - Mike Spencer
TREASURER - Sharon Jadrnak
Jimmy Blankeship Mike Cobb
Chip Mann Mark Perreault
Dan Robbins Julia Steele
Shari Vetter Scott Williams
ADVISOR - Tim Blumenschine
Max Hokit - American Battelfield Trust - WEBSITE
ABT's Virtual Reality Civil War Experience WEBSITE
Pam Goddard - National Parks Conservation Association - WEBSITE
Tim Talbott - Pamplin Park Historical Park - WEBSITE
Lewis Rogers, Eric Schreiner - Petersburg National Battlefield - WEBSITE
Julia Steele - The Petersburg Project - WEBSITE
ADDITIONAL HISTORIAL INFORMATION:
Click HERE for an 1889 speech by Confederate veteran Simon Seward about his escape from a Union prison.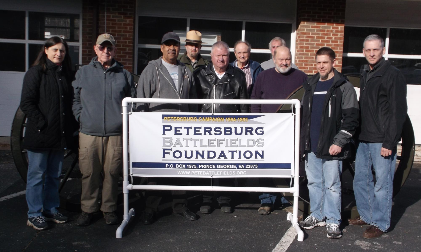 LOCAL HISTORICAL MARKERS
The Battle of Jerusalem Plank Road - North side of Flank Road in Petersburg, west of Ft. Hays Road and east of Birdsong Road. GPS: N 37.17455 W 077.39185
Fort Patrick Kelly - North side of Rives Road (I-95 Exit 47) at the I-95 access road. From the west, park on the access road; from the east, pull off into the grass near the corner. GPS: N 37.17611 W 77.34918
STRATEGIC PLAN
Click HERE for a summary of our strategic plan as updated in April 2019.